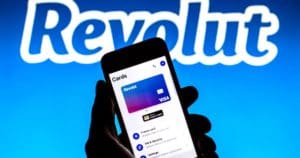 The online bank made the leap into the profit zone in 2021. But the auditor has questions about how the earnings were generated.
London The accountancy firm BDO LLP has expressed concerns about the annual report of the British online bank Revolut. It was unable to satisfy itself that there were no gaps and that revenues of 477 million pounds (around 540 million euros) had been generated, it said in its 2021 financial report, which Revolut published on Wednesday. The online bank, which offers accounts, payment services and crypto trading, made a net profit of 26 million pounds in 2021.
The total amount of profit in the 2021 annual report was not questioned, a spokesperson for the bank said. Concerns raised by the auditor had been addressed by Revolut, according to 2021. However, Revolut published the audited annual report with a delay of several months. The reason for the delay, according to Revolut, was the replacement of internal accounting systems.
Revenue at the UK's most valuable fintech climbed 33 per cent last year to more than £850 million, thanks to a thriving payments business, as well as premium accounts for consumers and a surge in business customers. The neobank was valued at $33 billion at the time of its last funding round in 2021. Revolut is seeking a full banking licence in the UK and is looking to expand into countries such as India, Brazil, Mexico and New Zealand.