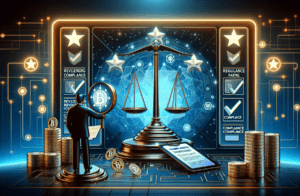 New Crypto Regulations at Work
In 2023, we saw new regulatory frameworks for crypto companies come into force in Europe and the UK. Crypto platforms will need to be regulated by the FCA to work with UK retail clients. Therefore, these UK clients will also receive emails from their crypto firms asking them to fill out an investor profile and complete a competency quiz.
However, UK regulation (see FCA announcement here) does not mean that clients' funds are protected. It just means that these crypto firms have to comply with rules and are monitored by the FCA. In the EU, MiCA (see MiCA announcement here) will only come into force in all member states in the next few years.
Key Points To Consider With Crypto Firms
As a CyberRating agency, PayRAte42 urges consumers to exercise caution in their cryptocurrency investments, particularly with unregulated crypto companies. Key points to consider:
Avoid Unregulated Firms: Dealing with unregulated crypto companies increases risk. These entities are not bound by regulatory standards or oversight.
High-Risk Investment: Cryptocurrencies are inherently high-risk. Associating with unregulated or unregistered providers compounds this risk.
FCA Registration Provides Some Safeguards: FCA-registered crypto firms must adhere to specific rules and are accountable to the regulator, offering a degree of investor protection.
No FSCS Protection: Investments in FCA-registered crypto companies are not covered by the Financial Services Compensation Scheme (FSCS).
Risk of Misuse of Funds: In the event of insolvency, recovery of investments hinges on whether the provider segregated client funds. The collapse of the US crypto exchange FTX, where customer funds were misused, is a cautionary example.
Investors are advised to conduct thorough due diligence and consider the regulatory status of any crypto firm before investing.
New Crypto Compliance Criteria
PayRate42 is now adding to its criteria for the compliance rating of crypto companies. Without regulation in the jurisdictions in which these companies operate, they will automatically receive an Orange Compliance Rating even if all other criteria are met.
In addition, the responsible regulatory authority and the operating legal entity must be stated on the crypto company's website and be easy to find. This must also be included in the terms and service agreement. This is important in case customers want to complain.
Share Information
If you have any information about crypto companies, please share it via our whistleblowing system, Whistle42, or leave a review on the crypto company's profile on PayRate42.