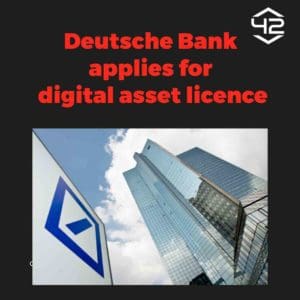 Deutsche Bank has recently announced its entry into the crypto custody market by applying for regulatory approval to operate a custody service for digital assets, including cryptocurrencies. The German bank's move comes as part of its efforts to expand its digital assets and custody business.
David Lynne, the head of the bank's commercial banking business, confirmed the development during a conference. He mentioned that Deutsche Bank has submitted an application to Bafin, the German financial regulator, to obtain a digital asset license. This move aligns with the trend observed among global custodians who have been establishing digital assets servicing businesses in Germany and Europe.
Bafin has already granted licenses to custodians specialized in cryptocurrencies, such as BitPanda, which received approval in November of the previous year. The growing interest in the crypto custody market has been fueled by incidents like the FTX collapse in the past year, which emphasized the importance of maintaining a strict separation between customer and company assets. This separation is a fundamental aspect of conventional custody services.
Deutsche Bank's foray into the crypto custody market showcases the increasing recognition and acceptance of digital assets by traditional financial institutions. As more banks and custodians enter this space, it is expected to contribute to the maturation and mainstream adoption of cryptocurrencies and blockchain technology.