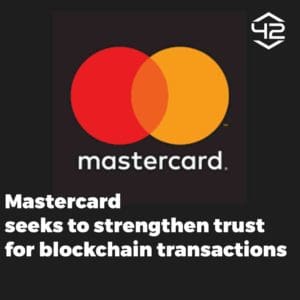 Mastercard, the leading financial services company, has announced that it is teaming up with Web3 players to develop an on-chain identity and verification framework. This initiative aims to provide a reliable, secure, and seamless way for companies, developers, and individuals to realize the full potential of powering payments, commerce, and economic value across borders and on-chain.
Named Mastercard Crypto Credential, the framework is designed to help ensure that interested parties operating in Web3 environments meet defined standards for the types of activities they would like to pursue. The project is expected to cover a variety of applications in payments, remittances, ticketing, and NFTs.
Several partners have already come onboard the project, including crypto wallet providers Bit2Me, Lirium, Mercado Bitcoin, and Uphold. They are working on an initial project that will enable transfers between the US and Latin America and the Caribbean corridors.
The company is also teaming up with public blockchain network organizations Aptos Labs, Ava Labs, Polygon, and The Solana Foundation. Aptos Labs, in particular, has made it to the shortlist of blockchains that will enable the identity and attestation element of sending and receiving funds through Web3.
According to Raj Dhamodharan, Executive Vice President of Digital Asset and Blockchain Product and Partnerships at Mastercard, the initiative will not only define verification standards and levels but will also provide necessary enabling technology to help bring more use cases to life. He added that with Mastercard Crypto Credential, they could help ensure that those interested in interacting across Web3 environments are meeting defined standards for the types of activities they would like to pursue.
Aside from this, Mastercard has also signed up six blockchain and digital asset startups for its StartPath program. Participants in the program will receive training, access to channels and customers, as well as subject matter expertise, and an opportunity for technical collaboration. The new members include Axelar, Cheeze, Coala Pay, Qonbay.io, RociFi Labs, and Suberra.
Overall, Mastercard's collaboration with Web3 players shows the company's commitment to exploring the potential of blockchain technology and its applications in the financial industry. This move may also pave the way for more mainstream adoption of Web3 technology and help increase the use cases for cryptocurrencies and blockchain.