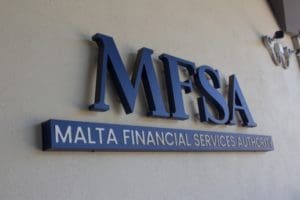 LifeStar Insurance, a licensed Maltese insurance firm, has filed court proceedings against its regulator and one of its top officials. The owner of major insurance company LifeStar, formerly Global Capital, has taken the Malta Financial Services Authority (MFSA) to court, claiming "arbitrary and capricious treatment," and accused a top MFSA official of pressuring him to sell his company to a competitor. Even under Maltese measures, this is a strange case!
Pushed To Sell
LifeStar Insurance, whose controlling shareholder is Italian financier Paolo Catalfamo, initiated judicial proceedings against the regulator, alleging undue interference by Christopher Buttigieg, the MFSA's Chief Officer Supervision.
In his court submissions, Catalfamo claims Buttigieg actively pushed him to sell his company to a competitor, IVAlife Insurance. Catalfamo claims that on more than one occasion, starting at a meeting in May 2020, Buttigieg asked why he would not sell LifeStar Insurance to IVAlife if only to avoid making his life miserable by having to deal with the MFSA. The company claims that a series of regulatory actions triggered by the MFSA and Buttigieg could easily be attributed to trying to force it to sell to IVAlife.
LifeStar Insurance operates a network of insurance intermediaries and, as GlobalCapital, has been present in Malta for 60 years as country representative for Bupa – the leading global health insurance principal.
LifeStar Insurance said in its submissions that Buttigieg went as far as to remind Catalfamo of his health issues, asking him "why he would not enjoy life instead of making himself miserable." Catalfamo also accuses the MFSA of "arbitrary and capricious treatment" and insists LifeStar Insurance continues to be "subject to unjust pressure by the Authority" even after its direction to proceed with an initial public offering and subordinated bond issue, despite misgivings.
They say that LifeStar never received a reasonable purchase offer from IVAlife or its subsidiaries. Sources said LifeStar Insurance was valued at €40 million by PWC following a significant restructuring. IVAlife was eventually granted a license as an insurance undertaking in 2021.
A Regulatory Executive In The Headlines
Buttigieg made the headlines for the wrong reasons in the past years. He was the promoter of the failed project, which labeled Malta as a "blockchain island." His failed project cost the Maltese taxpayers some €3 million.
Christopher Buttigieg sits on the MFSA's Executive Committee with Michelle Mizzi Buontempo and Edwina Licari. He is a member of the Board of Supervisors of the European Securities and Markets Authority (ESMA) and the European Banking Authority (EBA). It is unknown whether he was asked to resign following these serious allegations.