It is no longer news that Dutch law enforcement agencies are investigating Payvision for money laundering and violations of financial laws after the Financial Markets Authority filed a complaint. Now Bloomberg Law has also published a report on the matter. According to insiders, it is unlikely that the criminal proceedings against the disgraced ING Fintech subsidiary Payvision will be dropped. Quite the contrary. Payvision could be described as ING's biggest blot ever.
Payvision facilitates broker fraud
Founded in 2002 by Rudolf Booker, Payvision was heavily involved in facilitating payments for broker fraud between 2015 and 2019, criminal records show. Among other things, at least 130 million euros were processed for the binary options scams of Uwe Lenhoff and Gal Barak. This was money that victims deposited via Payvision and lost in the various scams. In 2018, ING acquired Payvision from Booker and his co-shareholders for an estimated €400 million. ING's then-CEO Ralph Hamers was proud of this fintech acquisition.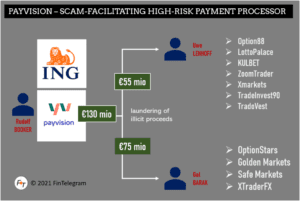 In October 2021, ING announced that Payvision was about to go out of business. By then, Hamers had already been appointed CEO of the Swiss UBS Group, making him the highest-paid bank CEO in Europe.
The criminal files available to FinTelegram show that Booker had close contact with Uwe Lenhoff and was even privately acquainted with him. The files also show that Booker helped convicted investment fraudster Gal Barak create the offshore constructions used to launder money stolen from consumers.
The European Fund Recovery Initiative (EFRI) has coordinated lawsuits by victims against Payvision in recent years. EFRI chairperson Elfriede Sixt has faced SLAPP attacks from Payvision and its lawyers for this. ING did nothing to clear up Payvision's dark past, but apparently turned a blind eye. Now the criminal case has finally reached ING. In the last published financial reports ING had to disclose that criminal investigations are ongoing. We will probably read about it more often.