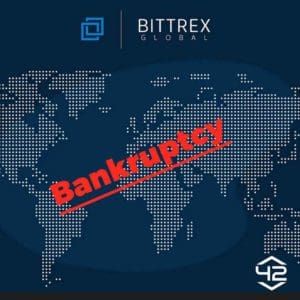 On Monday, the U.S. entity of crypto exchange Bittrex filed a Chapter 11 bankruptcy filing and sought creditor protection, as we reported. The U.S. SEC filed a complaint against Bittrex in April 2023 for violating U.S. securities laws. The Shift reports that the U.S. entity and the Bittrex entities in Malta are included in the bankruptcy filing. Thus, the bankruptcy does not seem to be limited to the US, as announced by Bittrex.
Bittrex's assets and liabilities were both between $500 million and $1 billion, according to a bankruptcy petition filed in Wilmington, Delaware court. Bittrex assumes that all customers can be paid out in full during the course of the bankruptcy proceedings, i.e., made whole.
According to The Shift, the Bittrex entities Bittrex Malta Holdings Ltd and Bittrex Malta Ltd also entered bankruptcy. They are still registered as active on the Malta Business Registry. Bittrex was operating in Malta during between 2018 and 2019. It ceased its Maltese operations in October 2019 and moved Bittrex Global to Liechtenstein.
Bittrex was among the crypto companies that Malta opened its doors to and who benefited from a so-called grandfathering period. Crypto exchanges that moved to Malta before October 2018 could operate until 2020 without complying with anti-money laundering (AML) and market manipulation rules. They were essentially exempt from the need for authorization or to comply with anti-money laundering laws.