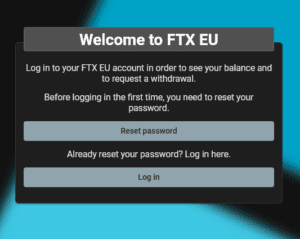 FTX EU LTD (Cyprus) has launched a website where customers can request closing balances and withdrawals.
Only customers who opened their accounts on FTX.com/eu after March 7, 2022 will be able to make withdrawals. This process will not apply to customers of other FTX Group companies, FTX said in a press release on Friday (March 31).
Withdrawals will be made from fiat currency funds remaining in segregated FTX EU LTD accounts, will occur after the process of submitting requests through the new website is completed, and will be subject to the appropriateness of the funds, the release said.
"All withdrawal requests will be subject to standard customer identity and anti-money laundering checks, and a customer's withdrawal may be delayed if bank or other account information has not been adequately verified," FTX said in the release. "Each FTX EU LTD customer will also be notified by email to the email address provided in their customer records."
FTX also announced that it would be selling its stake in Mysten Labs back to the startup's founders for $95m, including Modulo Capital's agreement to return $404m in cash that FTX and Alameda had used to fund their hedge fund activities, Modulo's agreement to also release its own claim to $56m in assets still blocked on FTX's dormant crypto exchange, and FTX's proposed deal to sell its stake in Mysten Labs back to the startup's founders for $95m.
Two days earlier, it was reported that FTX was suing the Bahamian Joint Provisional Liquidators (JPL), who are overseeing the liquidation of FTX Digital Markets (FTX DM), the company's island-based arm, to strip the island regulators of any claim to FTX's assets.
The disputed items include hundreds of millions of dollars worth of real estate and other rights and assets.
"The JPLs have inherited the corporate shell that Mr. Bankman-Fried and his co-conspirators built to house their fraudulent enterprise in the Bahamas and are now using it to continue the jurisdictional battle," a court filing states. "In doing so, they continue to create confusion as to the true ownership of the Debtors and squander the Debtors' assets in the process."