Large, global scams and investment fraud schemes would not be possible without the involvement of lawyers. It is these attorneys who issue the necessary certifications in accordance with the Anti Money Laundering (AML) and Know Your Customer (KYC) regulations. These confirmations grant scams and investment fraud schemes access to the international financial system. This opens the door to investors' money. These lawyers often work closely with Payment Services Providers (PSPs) to launder the money stolen by investors.
Mark S. Scott and Robert Courtneidge at OneCoin
In the case of the gigantic OneCoin investment fraud, the former partner of the big US law firm Locke Lord, Mark S. Scott (LinkedIn profile) is now also being indicted in the USA together with the Bulgarian scheme operators Konstantin Ignatov and his sister Ruja Ignatova. While Konstantin Ignatov is imprisoned in the USA, Ruja Ignatova allegedly fled to Russia and escapes the U.S. authorities. Recently, Konstantin Ignatov has appeared as a witness for the DOJ.
The U.S. prosecutors accuse the lawyer Mark S. Scott in his indictment of laundering about $400 million for OneCoin. In total, the damage to OneCoin investors is said to amount to far more than $4 billion.
In the course of the investigations of the U.S. authorities, it has now come to light that not only Mark S. Scott was working as a Locke Lord lawyer for OneCoin. Additionally, the British citizen Robert Cortneidge (LinkedIn profile), now director and CEO of UK-registered Moorwand Ltd, also served there as Global Head of Card and Payment Services. Currently, Robert Cortneidge is also being investigated as one of the persons responsible for the money laundering scandal at the Danish KBH Andelskasse. According to the UK Companies House, Courtneidge replaced the founder Alain Bazille as a director and CEO at Moorwand Ltd in April 2018.
Evidently, Robert Courtneidge's name came up in the trial against Scott reports Matthew Russell Lee of InnerCityPress (@InnerCityPress on Twitter), which published screenshots of emails on Twitter that show that Ruja Ignatova apparently sent her emails regularly to Mark S. Scott and Robert Courtneidge. Mark S. Scott apparently defends himself to the U.S. prosecutor by claiming that his colleague at Locke Lord, Robert Courdneidge, was also involved in and approved the OneCoin transactions.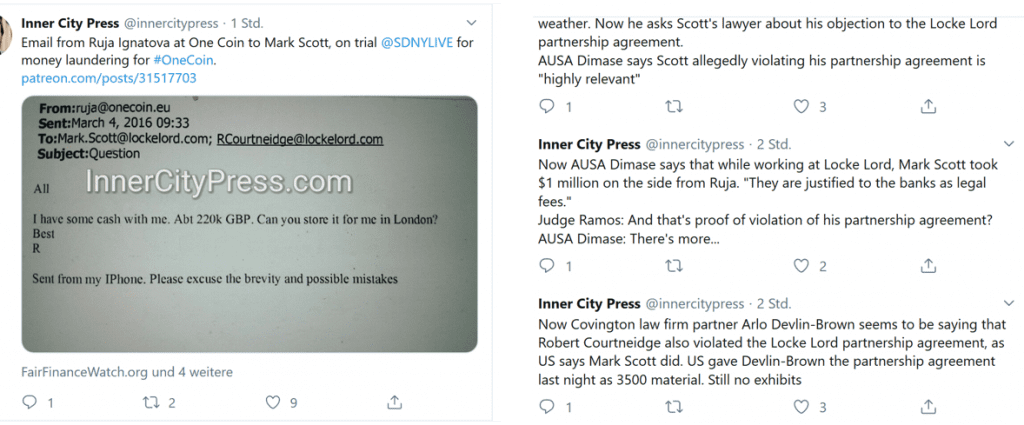 Locke Lord scam support and locked website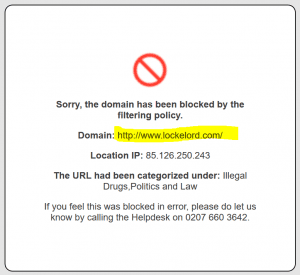 If you try to access the website of the big US Lawfirm Locke Lord under the domain www.lockelord.com you might get a hint that the website is blocked. It would be categorized as "Illegal Drugs, Policy and Law". Some networks have therefore blocked access to the website. Interesting damage to a leading US law firm, isn't it?
According to his LinkedIn profile, Mark S. Scott worked in the Miami and London offices from June 2015 to August 2016. Robert Courtneidge was Global Head of the Cards and Payment Practice at Locke Lord's London office from February 2012 to March 2018. They know each other well and have worked together on a number of projects at Locke Lord.
Until April 2019, Moorwand Ltd, regulated by the UK Financial Market Authority FCA, was the operator of the UPayCard platform. Through this platform, dozens of binary options and broker scams have collected and stolen retail investors' funds.