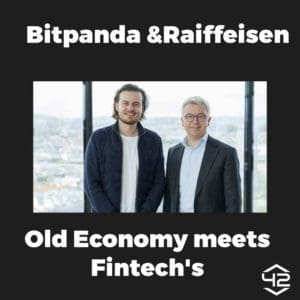 Raiffeisenlandesbank Lower Austria-Vienna is taking a step forward in the development of innovative investment solutions by partnering with Bitpanda, a Viennese unicorn. Bitpanda and Raiffeisenlandesbank Niederösterreich-Wien have signed a letter of intent to provide Raiffeisen's customers with access to digital assets through Bitpanda's platform by the end of 2023. This new solution will be integrated into Raiffeisen's Elba online banking portal, making it easy for customers to access the new offering without using a separate app.
The partnership aims to add an innovative and secure facet to Raiffeisen's product range and enable all customers to easily build up their assets. The new solution will encompass the full range of assets already held by Bitpanda, including cryptocurrencies, ETFs, precious metals, commodities, and equities. Trading is to be independent of the amount of capital available and available from as little as one euro.
Bitpanda and Raiffeisen have already collaborated on a project for a so-called RBI Coin, which runs on Bitpanda's Pantos project and is intended to be an e-money solution for transactions between banks and between companies. Raiffeisen also has a corner investment in Bitpanda. Bitpanda has increasingly become a tech provider, offering a software-as-a-service infrastructure that enables partner banks to offer all assets digitally to their customers, regulated and with secure custody of all assets.
Bitpanda's white-label solution has already been integrated into apps from N26, Lydia, Plum, and Hype. The company has also expanded its distribution channels for the white-label solution, most recently through new partners Visa and Mambu.
By partnering with Bitpanda, Raiffeisenlandesbank Lower Austria-Vienna is breaking new ground in the development of innovative investment solutions and will become a pioneer in the EU. The collaboration is expected to offer Raiffeisen's customers a seamless and secure way to invest in digital assets, making investing accessible to everyone.