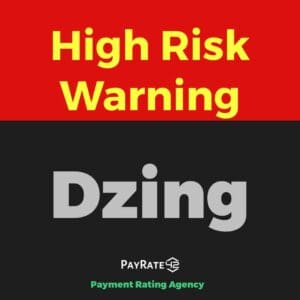 Key Data
Trading Name: Dzing
Legal Entity: Dzing Finance Ltd, Dzing Finance Group Limited, Dzing Technologies Ltd

Activities: Payment processor, technology provider

Location: UK, Ireland, Cyprus

Regulations: FCA-regulated EMI

Key People: Tatjana Orlova, Mikhail Nadel
Dzing is an FCA-regulated E-Money Institution (EMI) and a financial technology services provider controlled by Dzing Finance Group Limited, registered in Ireland, and DEKIBA Trading FZE, registered in Dubai. Tatjana Orlova and Mikhail Nadel are registered as directors and shareholders in the Irish entity. Orlova is also the controlling person of the Cyprus registered technology company Dzing Technologies Ltd.
Compliance Problems
UK regulators have imposed stringent measures on Dzing Finance Ltd, a payment institution controlled by Tatjana Orlova and Mikhail Nadel. The firm's operations saw nearly 20% of payments affected by fraud, leading the UK Financial Conduct Authority (FCA) to act. The FCA has stopped Dzing from onboarding new retail customers and required them to freeze incoming retail funds without explicit FCA consent.
The FCA's concerns stem from an investigation by the Payment Systems Regulator (PSR), which revealed a high incidence of authorized push-payment scams within Dzing's operations. These scams involved fraudulent payments and ranked Dzing at the top among fintech peers for such incidents.
Dzing's complex background involves key figures with ties to Russian billionaires, questionable financial transactions, and a founder with legal issues. Dzing has contested the PSR's findings, arguing that the report does not accurately reflect their transaction volume and that they have improved their business model and control measures. The FCA's actions are considered a "voluntary undertaking" by Dzing, allowing them to maintain their license conditionally but preventing them from expanding their customer base or accepting new funds without FCA consent.