"A GUEST POST FROM OUR PARTNER FINTELEGRAM"
It is now well known in the international fintech scene that Payvision, founded by Rudolf Booker in 2002 in Amsterdam, was a dubious high-risk payment processor that facilitated not only porn and gambling merchants but also broker scams. Many scam victims have deposited and lost their money through Payvision. The victim protection organization EFRI claims that Payvision knowingly and intentionally facilitated scams to boost its volume and profits.
The Big Flop
In 2018, Booker finally found a naive buyer in ING, who also bought Payvision from him on a valuation basis of €360 million. An insider told FinTelegram that ING would have paid a total of €400 million for the Payvision acquisition. Only to find out shortly afterward that the dark business of Payvision was neither compatible with ING's ethical standards nor with the regulatory and legal framework.
Although an investigation report delivered by the Dutch supervisory authority as of 9th October 2021 already reported willful blindness applied for fraud signals and non-working compliance, the company continued its activities until at least May 2021.
Eventually, in Oct 2021, ING announced that it would close down Payvision. This was one of the biggest flops in ING's history.
Regulatory Investigations
As of 8 October 2020, an investigation report submitted by the Dutch Supervisory Authority (DNB) to the management of Payvision, a licensed Dutch payment institution in Amsterdam,  stated that an on-site audit carried out by DNB found
that the company has been in serious breach of the Sanctions Act, the Financial Supervision Act, and the Money Laundering and Terrorist Financing Act (Wwft) since at least 2015,
that fraud signals were deliberately ignored and some of its customers were deliberately not screened (willful blindness)
and that, furthermore, customer checks and compliance with anti-money laundering regulations were systematically neglected.
The DNB report explicitly states that the company's violations are still ongoing at writing, despite a clean-up operation by the new top (meaning Valkenburg and Terpstra).
As of 15 February 2023, Payvision still has an active European payment institution license.
Scam And Cybercrime Facilitator
According to EFRI, court documents in different jurisdictions suggest that Payvision was involved in big-scale bank fraud and transaction laundering cases. Payvision deceived banks and credit card networks using false transaction codes to disguise online payments related to online fraud, drugs, pharmaceuticals, and pornography.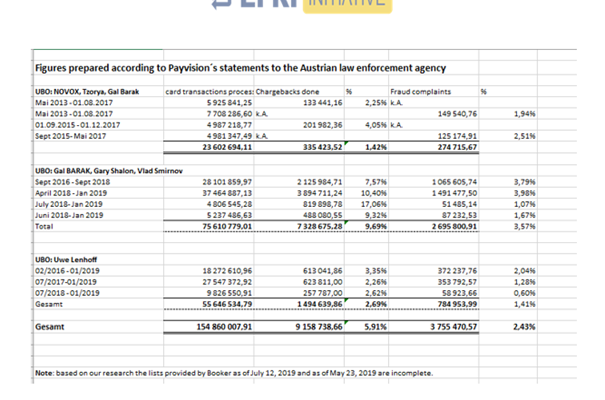 Payvision worked with online scammers like Gal Barak, the "Wolf of Sofia," who was sentenced for investment fraud and money laundering, and his partner, Gery Shalon, a guy charged with a financial cybercrime in the US in 2015. The German cybercrime mastermind Uwe Lenhoff was a close partner of Rudolf Booker and Payvision. He was a sales agent for Payvision and acquired scam operators for the payment processor. Lenhoff was arrested in January 2019 and found dead in prison in June 2020. Cause of death unknown. According to court documents, between 2013 and 2019, Payvision processed more than €154 Mio of stolen money (see screenshot right).
EFRI, Damage Complaints, And Desperate Victims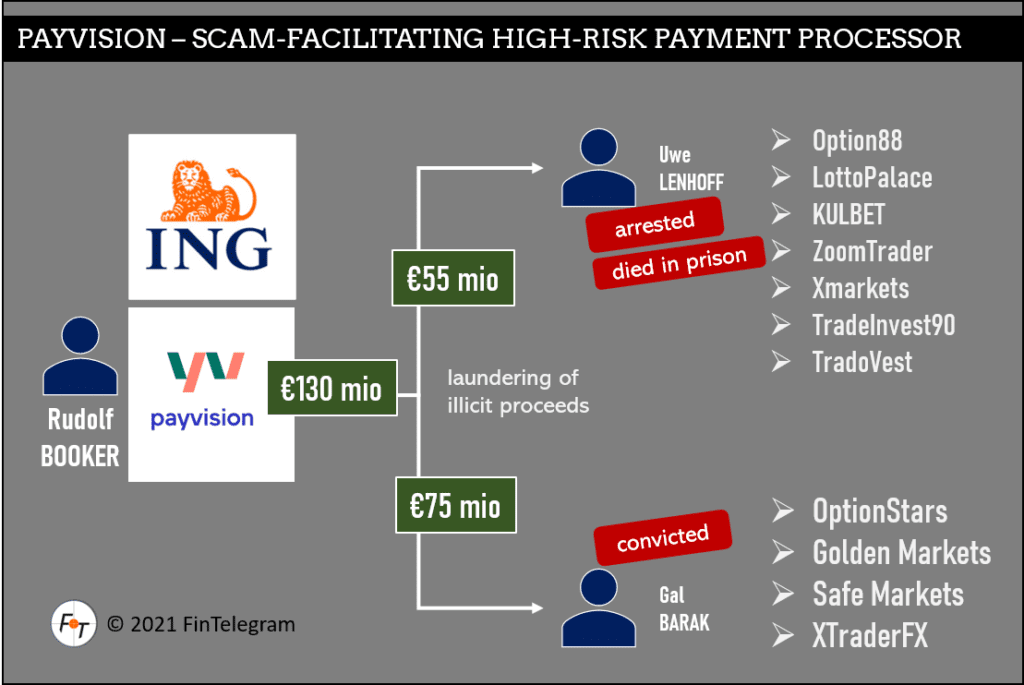 The Vienna-based victim protection organization EFRI (European Fund Recovery Initiative) has been caring for scam victims who lost their money via Payvision since 2018. Tax consultant and auditor Elfriede Sixt founded EFRI. It organizes lawyers for the victims and supports filing claims for damages against Payvision across different jurisdictions. Currently, legal cases against Payvision have been brought in Austria and Germany. According to Elfriede Sixt, a complaint will soon be filed against Payvision in the Netherlands. We want a refund of the total damage brought to the victims with the support of PAYVISION.
Scam victims are desperate and very often in dangerous psychological situations. One of the victims of Uwe Lenhoff committed suicide. He was an 84-year-old German guy who had worked his whole life, raised a family, paid his taxes duly, and never had any troubles with European authorities. He lost all his life savings to the scam of Gal Barak. Payvision facilitated these scams and processed much of the money.
Another victim – also represented by EFRI – was a 58-year-old lady; she was Swiss and spent her working life in South Africa – her life savings were meant to enable her and her family a good retirement back in Switzerland. She transferred quite a part of their life savings via an ING Bank account to the scammers. She was a lovely lady and told us several times that she would write a book about what happened to her. Due to all this distress, she got brain cancer and died only a few months ago.
EFRI will not stop before justice is served to the Payvision victims, Elfriede Sixt told FinTelegram.