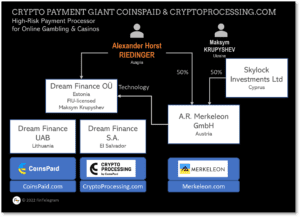 Crypto payment processor CoinsPaid operates through legal entities in Estonia, Lithuania, and El Salvador. Dream Finance OÜ, the operating entity, which holds a crypto license in Estonia, is controlled by Austrian entrepreneur Alexander Horst Riedinger and led by Max Krupyshev as CEO. In a new press release, CoinsPaid claims to announce 2021 numbers audited by Crowe Global (website). The truth is that the company does not announce any number.
The Numbers
In a new press release from 14 March 2023, CoinsPaid reported audited 2021 numbers. The company said its net income increased by 411% compared to 2020. Net profitability allegedly increased by 43.64% compared to the previous year. The company's Return on Assets (ROA) increased by 5.89% in 2021. The press release says, "Crowe auditors confirmed the increase of users' funds by 3 times in 2021."
Specifically, the auditor was Crowe DNW Ltd in Estonia. The financial statements themselves or the confirmation were not published.
In a February press release, CoinsPaid claims to be the largest crypto payment ecosystem, which processed a total of 34 million transactions worth €19 billion. CoinsPaid's payment gateway allegedly processes about 8% of global on-chain Bitcoin transactions. said it processed a transaction volume of around €3 billion in Q4 2022. This would be an increase of more than 30% compared to Q4 2021. CoinsPaid claims that its payment gateway processes allegedly about 8% of global on-chain Bitcoin transactions.
Conclusion
The CoinsPaid announcement about its 2021 results is a bit strange. Concrete numbers are missing. Instead, only percentages are given, which are worthless for us in the absence of any absolute numbers. Somehow we perceived the entire press release as not very serious. You should be careful with CoinsPaid and its twin brand CryptoProcessing.