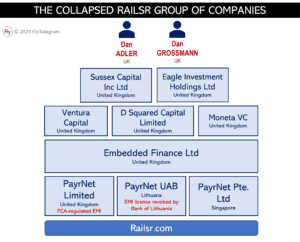 Railsr Group, with its regulated PayrNet entities, has a lethal problem. Last week, the Bank of Lithuania revoked its e-Money Institution (EMI) license. The regulator also announced that it would file for insolvency and file a complaint with law enforcement agencies for possible criminal violations. According to its website, the PayrNet entity regulated by the FCA in the UK was also banned from acquiring new distributors or agents.
We, PayRate42, have already blacklisted PayrNet for several months due to its money-laundering issues.
In March 2023, the Railsr Group was restructured and recapitalized. Apparently, the problems surrounding the Lithuanian PayrNet prompted this restructuring. A consortium led by D Squared Capital took over Railsr Group. Moneta VC and Ventura Capital were also part of this consortium. The details of this restructuring cannot be traced. As a new Railsr holding company over the PayrNet entities in the UK and Lithuania, Embedded Finance Ltd was established which is led by Dan Adler as a director. Together with Matthew Grossman, he controls the new Railsr Group.
The business model of Railsr Group and PayrNet is to work exclusively through intermediaries and agents, according to the Bank of Lithuania. Apparently, this business model has failed, because the Lithuanian regulator states that PayrNet is insolvent. This also because funds of the Lithuanian entity were used to finance other companies in the network. Millions are said to have disappeared in the process.
It is fair to assume that the Railsr Group will probably not be able to stay in the market despite the restructuring and refinancing.