"A guest post from our partner Fintelegram"
In March 2021, Ray Akhavan and Ruben Weigand were found guilty of bank fraud under the Eaze scheme, in which financial institutions in the USA were deceived into purchasing more than $150 million worth of marijuana by credit/debit card. They disguised these transactions as purchases of other goods, such as face creams and dog products. Akhavan and Weigand were sentenced to 30 and 15 months in prison respectively. Allegedly, ING subsidiary Payvision and its US partner T1 Payments operated a similar scheme between 2015 and 2021.
Miscoding Is Bank Fraud
In the Eaze case, the U.S. court found that manipulation of the so-called Merchant Category Codes (MCC) with the purpose of concealing the true nature of the merchants or trades qualifies as bank fraud. This is clearly more than "just" money laundering.
Allegations Against Payvision And T1 Payments
According to a statement of facts established by the European Funds Recovery Initiative (EFRI), ING subsidiary Payvision and its U.S. partner T1 Payments were also involved as payment processors in the U.S. drug scene. Like in the Eaze case, T1 Payments and Payvision are said to have deliberately hidden the true nature of the transactions through MCC manipulations.
Marijuana is listed as a Schedule I drug by the U.S. Food & Drug Administration (FDA) and is, therefore illegal under federal law. Accordingly, U.S. banks and credit card associations (Visa, Mastercard, Discover, American Express, etc.) have firm policies against their cards being used for illegal drug sales. The U.S. DEA has considered labeling Kratom a controlled substance. Like marijuana, the purchase and sale of kratom in the U.S. are prohibited in some states. Kratom is also banned in some European and Asian countries.
Credit card networks do not have drug-related merchant codes. To process payments for marijuana or Kratom, a false merchant code, i.e., a merchant code associated with a different product or product category – would have to be used. This approach is known as miscoding.
Allegedly, T1 Payments established phony companies in Europe for the U.S. drug merchants with the sole purpose of processing card transactions for the sale of on-demand CBD and Kratom products via its partner Payvision. The ING subsidiary allegedly processed payment transactions for CBD and Kratom products for U.S. merchants from at least 2017 up to and including May 2021.
According to the EFRI statement, T1 payments has facilitated about 90% of the US Kratom businesses with its payment services. Hundreds of Kratom merchants got onboarded by T1payments and Payvision.
Comparable to Ray Akhavan and Ruben Weigand in the Eaze scheme, T1 payments LLC acted as a middleman and merchant between the actual drug retailers and processed the illicit payments via its partner Payvision. Some of the clients of this scheme were GAIA Ethnobotanicals, Diamond CBD, and Sarah Grauert.
U.S. Court Cases
Some of the drug merchants felt defrauded by T1 Payments and Payvision and sued in the U.S. The following legal claims of drug-related merchants and former clients have been brought against T1 payments and/or Payvision in the U.S.
First Capital Venture Co. d/b/a Diamond CBD, Ltd., Case No. A-21- 834626-B brought on 14 May 2021 a claim for 0.6 million USD  resulting from a payment processing agreement entered into on May 2017 for CBD products and lasting until Mai 2021.
Sarah Grauert, and by HANNAVAS Enterprises LLC, Delaware, Case No. 2.20-cv-00411-KJD-VCF brought a claim on 27 February 2020 regarding the retention (early termination fee) of 1 million USD resulting from a Payment Processing Agreement for Online Cannabis products stores (http://www.bionicbliss.com) (settled 11
GAIA Ethnobotanical LLC, Nevada Case 2:22-cv-01046-CDS-NJK brought on 2 July 2022 a legal claim for approximately  0.4 million USD resulting from a Payment Processing agreement for Kratom (drug) products entered on 12 August 2020 and terminated on 28 May 2021.
Payvision has already settled some of the U.S. lawsuit cases without disclosing details. A guarantee has been drawn against T1 Payments.
The Legacy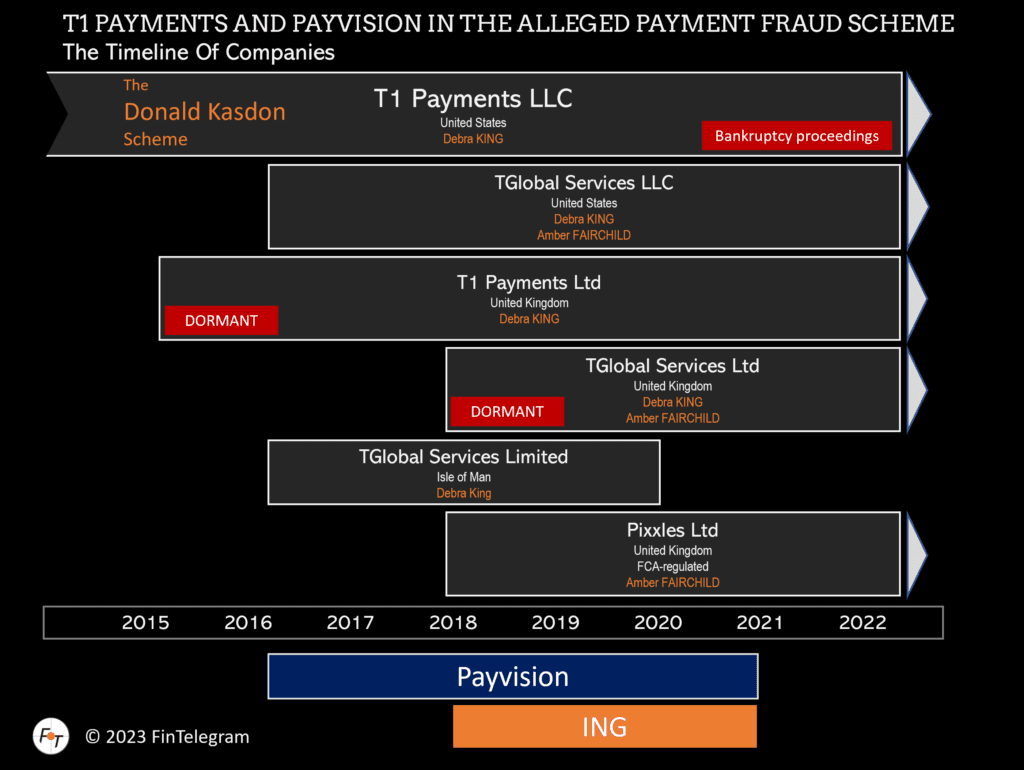 The payment scheme was set up by the CEOs of T1 Payments and Payvision, Donald Kasdon and Rudolf Booker, in 2015. Court documents show that Payvision CEO Rudolf Booker is said to have personally advised his new partner Kasdon on the establishment of European companies.
U.S. dealings with drug merchants continued even after ING acquired Payvision in early 2018. It was not until sometime in 2021 that ING was likely to have run out of steam. Rudolf Booker and his co-founders left Payvision in April 2020. His successor as CEO, Andre Valkenburg, has apparently continued to run the business with T1 Payments until 2021.
Against the background of the U.S. lawsuits, there was massive turmoil between T1 Payments and ING or Payvision. Donald Kasdon claimed to FinTelegram that ING was, of course, always aware of Payvision's U.S. business and its risks. In December 2022, Kasdon initiated Chapter 7 bankruptcy proceedings in the U.S. for his T1 Payments (report here).
Following reports from the Durch financial market authority, Dutch law enforcement has opened an investigation into Rudolf Booker on suspicion of money laundering.