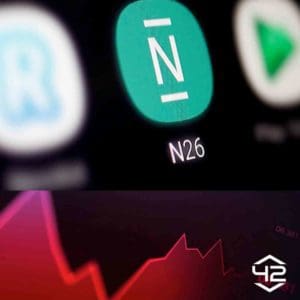 The shares of the insurer Allianz in Neobank have lost two thirds of their value in the past two years. An exit by Allianz would be a bitter blow for the Berlin-based company.
According to a recent report, the Allianz Group is seeking to exit its stake in N26, the Berlin-based fintech company, due to the bank's recent struggles. The insurer is looking for buyers for its five percent stake in N26, aiming for proceeds of more than $150 million (137 million euros), as reported by the Financial Times. This targeted exit would value N26 at around $3 billion, a significant drop from its valuation of $9 billion during its last financing round in October 2021.
Allianz has held a stake in N26 since 2018 through its investment company Allianz X, which participated as one of the main investors in a financing round totaling $160 million. At that time, N26 was valued at less than one billion dollars. Allianz's current stake in N26 is just over five percent, making it one of the largest investors in the bank.
Despite the drop in valuation, Allianz could still exit the N26 stake with a significant book profit if the planned placement succeeds. However, the exit would be a blow to N26's search for new investors. The bank has had recent problems with supervisory authorities, resulting in restrictions on customer acquisition.
Allianz has been dissatisfied with Allianz X for some time, but the insurer did not comment on the report to the Financial Times. N26 also stated that it was not currently aware of any sales process and did not comment on speculation about valuation issues from investors.
In conclusion, Allianz's exit from N26 would mark a significant development in the bank's history, as it seeks to overcome its recent struggles and regain the confidence of investors and regulators.