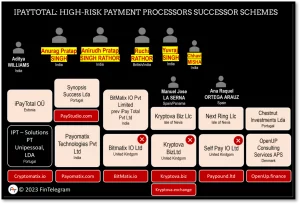 FinTelegram has already reported that the UK entities behind the high-risk payment processors, Kryptova, Bitmatix, and Paypound are in the process of being dissolved. The UK Companies House announced that the companies cease to exist via voluntary strike-off as of April 18, 2023. They belong to the network of notorious Indian payment veteran Ruchi Rathor. Merchants should take the best care of their money and avoid black-listed Kryptova, Bitmatix, and Paypound.
Short Narrative
BitMatix, Kryptova, and Paypound are just three of the iPayTotal successor schemes. There is also CryptoMatix, Payomatix, PayStudio, and others.
Kryptova and Paypound are now operated via two Nevis-registered entities: Kryptova Bic LLC and Next Ring LLC, respectively.
While Bitmatix IO Ltd in the UK is being dissolved, the Bitmatix website was no longer accessible on April 12, 2023. Whether this is just a short-term problem or whether Bitmatix has disappeared in general, we do not know at this time.
BitMatix used to be operated through UK-registered Bitmatix IO Ltd and India-registered Bitmatix IO Pvt Limited (formerly iPayTotal Pvt Ltd). Yuvraj Singh, the Indian son-in-law of Ruchi Rathor, is installed as the director and owner of the UK entity. The directors of the Indian Bitmatix entity are Ruchi Rathi and Anurag Pratap Singh. The liquidators of bankrupt iPayTotal Ltd are seeking the latter to answer unanswered questions surrounding the missing funds and assets.
As reported by FinTelegram, there are no funds in iPayTotal Ltd but at least GBP 1.1 million of claims from creditors.