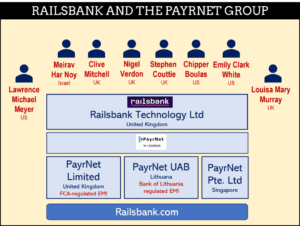 Lithuanian regulators have taken action against UAB Payrnet, a payments firm affiliated with the troubled UK group Railsbank Technology Ltd. The regulators have revoked Payrnet's license, citing numerous violations of local laws. The Bank of Lithuania plans to initiate bankruptcy proceedings against Payrnet and intends to involve law enforcement authorities to investigate potential criminal offenses.
Payrnet, which held a license to operate as an electronic-money institution across the European Union, processed around €7.5 billion ($8.3 billion) in transfers last year. The regulator found that the company had breached laws related to the prevention of money laundering and terrorist financing.
Payrnet and its UK-regulated subsidiary, Payrnet Ltd., were both part of Railsbank, a once-prominent player in the UK fintech sector. Railsbank raised significant funding from venture capitalists worldwide and was valued at nearly $1 billion in 2021, according to co-founder Nigel Verdon.
However, Railsbank faced financial and regulatory challenges, leading to its downfall. The unraveling of the group has drawn attention to issues within Europe's payments industry.
The Bank of Lithuania had already barred Payrnet from acquiring new customers in February due to suspicions of severe and systematic violations of laws. In March, Railsbank's directors placed the company into administration, transferring its assets to a new entity supported by investors such as D Squared Capital and Moneta Venture Capital.
According to the Bank of Lithuania, Payrnet made payments to cover expenses of other companies within its group, resulting in an irrecoverable amount exceeding €7 million. This significantly impacted the financial position of the institution.
Regulators also found deficiencies in Payrnet's controls. Although the firm operated through intermediaries rather than serving customers directly, it failed to conduct proper due diligence on most of these intermediaries. The regulators stated that risk assessments of clients to prevent money laundering and terrorist financing were inadequately conducted or not conducted at all in some cases.
While the license of Payrnet Ltd. in the UK remains active, the Financial Conduct Authority has not commented on the situation.
The actions taken by Lithuanian regulators against Payrnet and the troubles faced by Railsbank highlight the increasing scrutiny of the payments industry in Europe.
Payrnet's licence revocation will disrupt some payment providers and neo-banks who have all used their whitelabel solution.