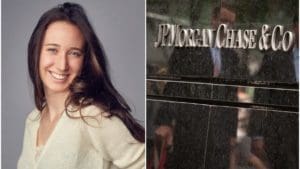 In 2021, the U.S. banking giant JP Morgan paid $175 million for Frank, a student loan assistance fintech startup founded by former CEO Charlie Javice in 2016 (report here). JP Morgen launched a lawsuit against its founder Javice, alleging she had created 4.25 million users to inflate the value of the business. The U.S. Department of Justice (DOJ) and the U.S. Securities and Exchange Commission (SEC) charged Javice with fraud. She fooled the wrong people and was arrested last night.
The U.S. prosecutors (here) and the SEC (here) allege that Charlie Javice, 31, orchestrated a scheme to deceive JP Morgan into believing that Frank had access to valuable data on 4.25 million students who used Frank's service when the number was less than 300,000.
The authorities allege Javice misrepresented Frank's millions of users to entice JP Morgan. As negotiations progressed, JP Morgan pressed the Frank executives for the data associated with its customers. Javice allegedly sought the help of Frank's director of engineering to generate synthetic data to make it appear that Frank had 4.25 million customers. When the director refused to comply, Javice allegedly paid a data science professor to manufacture the data required to close the deal with JP Morgan.
The investigations show that Javice received over $21 million for selling her equity stake in Frank to JP Morgan and was to be paid another $20 million as a retention bonus as a new employee of JP Morgan. Moreover, she received $9.7 million directly in stock proceeds and millions more indirectly through trusts.
Rather than help students, we allege that Ms. Javice engaged in an old school fraud: she lied about Frank's success in helping millions of students navigate the college financial aid process by making up data to support her claims, and then used that fake information to induce JPMC to enter into a $175 million transaction.

GURBIR S. GREWAL, DIRECTOR OF THE SEC'S DIVISION OF ENFORCEMENT
Javice is charged with one count of conspiracy to commit bank and wire fraud, one count of wire fraud affecting a financial institution, and one count of bank fraud, each of which carries a maximum sentence of 30 years in prison, and one count of securities fraud, which carries a maximum sentence of 20 years in prison.
The SEC complaint charges Javice with violating the antifraud provisions of the Securities Act of 1933 and the Securities Exchange Act of 1934. The complaint also names trusts held by Javice as relief defendants. The SEC seeks injunctive relief, an officer and director bar, disgorgement and prejudgment interest thereon, and civil penalties.