FinTelegram.com has received extensive documentation from a former OpenFinance executive stating that Ruchi Rathor is the beneficial owner of the Denmark-based high-risk payment processor. The official shareholder is the Portuguese-registered Chestnut Investments – Unipessoal LDA, where Portuguese-based Russian Svetlana Ivanova is registered as a director (picture above). The documents also show that Rathor's various high-risk processors work with fake people. Merchants should be highly alerted!
The Exposing Email
"I have just resigned from OpenUp as they were doing an illegal activity from financial fraud, money laundering, falsifying financial documents, identity theft, fake reviews, crimes against humanity, and going against GDPR laws. I was a company insider as the owner Ruchi Rathor was a fraud, having founded other companies such as Payomatix, iPay Limited, Paypound, and Hawex Group, which were all shut down for the same reasons. All of the identities of the employees are fake as they are using fake names and profile pictures."
EMAIL FROM FORMER OPENUP MANAGER
In the email set out above, the former OpenOp manager informs his colleagues about the discovery of many allegedly illegal operations in Ruchi Rathor's group.
Likewise, the former OpenUp manager also exposes the real people behind OpenUp's fake profiles and "pseudo names." For this purpose, a large number of documents, emails and postings were sent to us. Finally, it is once again confirmed that OpenUp and the other brands of Rathor's network work with fake reviews on Trustpilot. Rather herself does not see anything wrong or illegal in this, as she told an employee who complained about it.
Ruchi Rathor's network primarily uses LinkedIn for its activities. Hubert Georg (LinkedIn) from Munich, who worked for OpenUp, is also registered there. This is a "pseudo person". The real identity behind this fake profile is the Indian Jatin Gupta.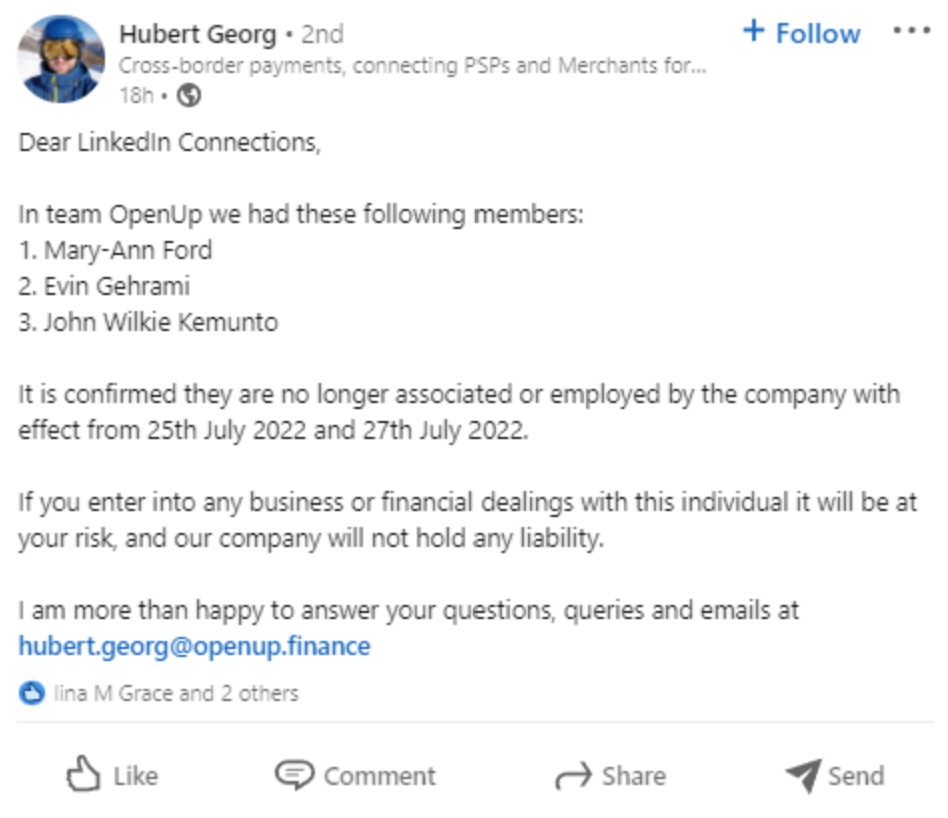 He informed his LinkedIn followers, for example, about the departure of some employees who are said to have behaved unethically. These employees left, according to their account, because they discovered illegal activities at OpenUp. They subsequently demanded money from OpenUp, which Ruchi Rathor and her people called "ransom".
Fintelegram has checked the submitted information to the best of our ability and can confirm its authenticity. The allegations are also in line with allegations made by other whistleblowers against Ruchi Rathor's network in the past. Merchants should avoid working with this network to protect their income streams and money.